PFC James Vincent Musto, 33615088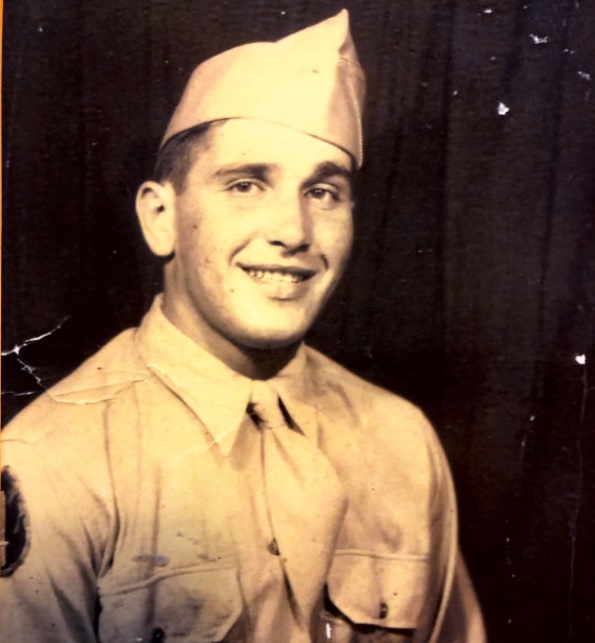 Private First Class James Vincent Musto, 33615088 US Army. He was born on November 27, 1924, the son of Nicholas and Pasquelina Addimanda Musto of Pittston Township Pennsylvania. He entered the US Army on January 21, 1944, at the age of 19. At the time of his enlistment he was 5 foot 11 inches tall had Brown Hair and Brown eyes and weighed 182 pounds. He entered D Company, 254th Infantry Regiment, 63rd Infantry Division, on March 21, 1944. He was transferred to F Company, 253rd Infantry Regiment, 63rd Infantry Division, on May 5, 1944. He served in Fox Company during combat.
On February 24, 1945 in the vicinity of Aucrasmacher, Germany. PFC Musto was serving in 3rd Platoon when German tank, and Infantry were attacking while American Artillery was landing short. During this attack many members of F Company thought that they had been ordered to withdraw when they saw the company Commander leave. At this point LT. Castleberry had to reassemble the men. But if it was not for the actions of PFC Musto and the many others who did not leave their position the ground would have been lost. He earned a Bronze Star Medal for helping repel the Germans attack that day. PFC Musto along with 8 other men (Pfc. Thomas W. Catoe, Pfc. William C. Craig, Sgt. Peter A. Grabchuck, Staff Sgt. James Albert King, Sgt. Nicholas Moldavan, Pfc. Vincent A. Moricone, Pfc. James V. Musto, S/Sgt. Clifford B. Myrice.) Left their position of cover and crawled around to the tanks flank and opened up fire on the tank this action along with the numerous other actions by members of F Company forced the tank to with draw.
On April 2, 1945 after the company had crossed the Necker River, Castleberry was driving a Jeep to Second Battalion Headquarters with PFC James V. Musto and Private James W. Nichols when a German sniper shot Castleberry, causing him to drive off a small bridge and flip over. The Jeep pinned Castleberry down. At this point, PFC Musto and Private Nichols, who were uninjured in the crash, pulled Lieutenant Castleberry out of the Jeep and dragged him to a ditch because the three men were still under fire by the German sniper. At this point, the two privates began to conduct first aid on Castleberry. Once they had stopped the bleeding, the two men exposed themselves to enemy fire when they went searching for something to use as a litter. They came back to the ditch with a gate on which they would put and carry Castleberry. The two men carried the lieutenant over 100 yards down a road "exposed to possible enemy sniper fire." The injuries that Castleberry suffered caused him to spend the next two years in hospitals recovering.

1- The Battle of Buchhof and Stein am Kocher
2- https://aad.archives.gov/aad/record-detail.jsp?dt=893&mtch=1&cat=all&tf=F&q=33615088&bc=sd&rpp=10&pg=1&rid=4087349
3- Pennsylvania, Veteran Compensation Application Files, WWII, 1950-1966
4- U.S. WWII Draft Cards Young Men, 1940-1947
5- Photographs from Diane Ardoline