S/Sgt James Albert King Sr. 34981706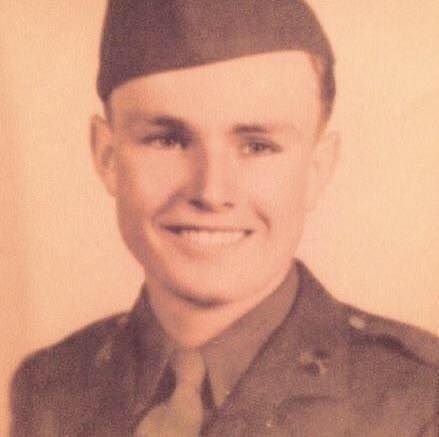 Staff Sgt. James Albert King Sr. 34981706 US Army. He was born on December 25, 1925, in Damon Tennessee, the son of Thomas Hubbard King and Alma Hardin King. He enlisted on March 2, 1944, at the age of 18. At the time of his enlistment he was 5 foot 11 inches tall weighed 158 pounds had gray eyes and brown hair. He entered F Company, 253rd Infantry Regiment, 63rd Infantry Division on July 31, 1944, at Camp Van Dorn Mississippi. He served with F Company for his entire time in combat. According to F Company records it looks like he served in 1st, 2nd, and 3rd Platoon of F Company.
On February 24, 1945 in the vicinity of Aucrasmacher, Germany. Sgt. King was serving in 3rd Platoon when German tank, and Infantry were attacking while American Artillery was landing short. During this attack many members of F Company thought that they had been ordered to withdraw when they saw the company Commander leave. At this point LT. Castleberry had to reassemble the men. But if it was not for the actions of SGT King and the many others who did not leave their position the ground would have been lost. He earned a Bronze Star Medal for helping repel the Germans attack that day. Sgt King along with 8 other men (Pfc. Thomas W. Catoe, Pfc. William C. Craig, Sgt. Peter A. Grabchuck, Sgt. Nicholas Moldavan, Pfc. Vincent A. Moricone, Pfc. James V. Musto, S/Sgt. Clifford B. Myrice.) Left their position of cover and crawled around to the tanks flank and opened up fire on the tank this action along with the numerous other actions by members of F Company forced the tank to with draw.
On April 8, 1945 in the town of Stine Germany shortly after entering the town, chaos struck, causing command and control to fail. More than half of the company withdrew from the town, leaving Lieutenant Holmes and 25 other enlisted men behind. Most of the men who stayed with Lieutenant Holmes served in Third and Fourth Platoons. When PFC John Garrish of the Fourth Platoon realized that the company commander and a large group of the men were missing, PFC Garrish then rallied a group of men willing to go into the "Blazing town." After leading this group of men into the town, PFC Garrish made contact with Lieutenant Holmes and the men. PFC Garrish then led this small group of men out of the town. Once the company arrived at the rally point to the northwest of the town, "it was discovered that two men were missing." At this point PFC James A. King of the First Platoon and PFC Nicholas Moldavan of the Second Platoon "volunteered to return to the enemy-held town and search for the two men… After a search of several minutes, [they] discovered the men and led them to safety."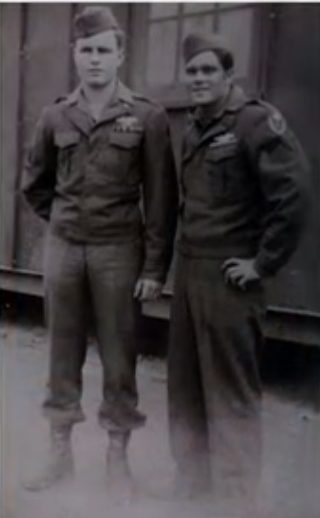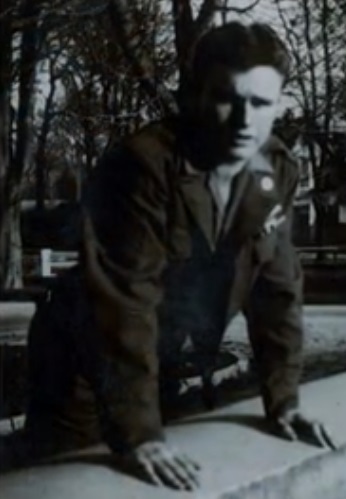 1- The Battle of Buchhof and Stein am Kocher
2- https://aad.archives.gov/aad/record-detail.jsp?dt=893&mtch=1&cat=all&tf=F&q=34981706&bc=sd&rpp=10&pg=1&rid=5351454
3- 1940 United States Federal Census
4- 1930 United States Federal Census
5- U.S., Social Security Death Index,
6- Information and Documents from the King
7- 63rd Division Records