PFC. Donald W. Smith KIA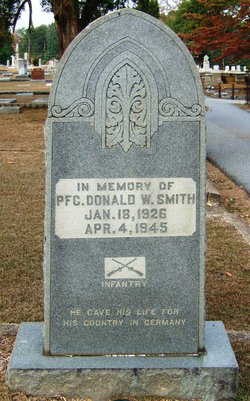 PFC. Donald W. Smith  34961372 US Army KIA. He was January 18, 1926, the son of Charlie Hampton Smith and Mary Ann Fayssoux Smith. He grew up in Gaffney, South Carolina, and graduated from Gaffney High School. He entered the US Army on February 28, 1944 at the age of 18. At the time of his enlistment he was 6 foot tall weighed 160 Pounds had brown hair and blue eyes. He trained at Fort Bragg North Carolina. He entered E Company, 253rd Infantry regiment, 63rd Infantry Division on Aug 1, 1944. He was wounded in Action on February 26, 1945 and waited 24 hours before going to the hospital. He was Killed in Action on April 4, 1945 at the age of 19.
He died on April 4, 1945, on hill 233 near the town of Untergriesheim Germany at the age of 27. At the time of his death E Company was holding back a strong close quarter combat counterattack by the 17th SS of Infantry and Tanks. Had E Company not been able to hold back this attack the SS would have pushed 2nd Battalion, 253rd Infantry, in to the Jagst River. He was awarded the Bronze Stare Medal, Purple Heart Medal with oak leaf cluster, The American Theater of operations Medal, The European African Middle Eastern Theater of operations Medal, the World War Two Victory Medal,  and the Combat Infantry Badge. His body was returned to the United States in 1950 his body was interred Dakland Cemetery.
1- The Battle of Buchhof and Stein am Kocher
2- 63rd Infantry Division reports
3- U.S., Headstone Applications for Military Veterans, 1925-1963
4- in the U.S. WWII Draft Cards Young Men
5- the 1930 United States Federal Census
6- the 1940 United States Federal Census