PFC Eugene Bennett Reich US Army DSC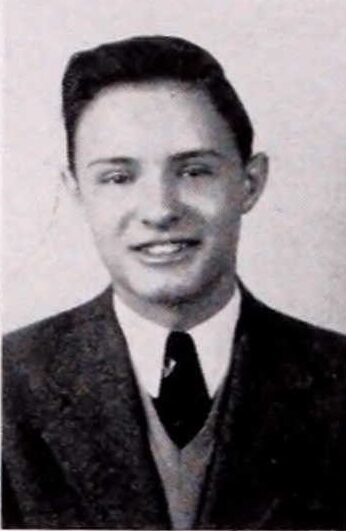 Private first class Eugene "Gene" Bennett Reich US Army DSC. He was born on January 23, 1926, in Winston-Salem, North Carolina. He was the son of Henry Adolphus Reich Sr and Sallie Virginia Lyons Reich. He had 2 siblings Henry A Reich and Lois V Reich. His mother died on May 31, 1930, of influenza she died at the age of 29. Sometime after that Eugene and his brother Henry moved to Radford Virginia to live with his grandmother Jennie C Lyons and aunt Minnie K Lyons. He Graduated in the class of 1943 from Radford High School in Radford, Virginia. He entered the US Army on February 18, 1944 at the age of 18. At the time of his enlistment he was 5 foot 10 inches tall weight 138 Pounds he had Brown hair and brown eyes.
He entered Company K, 254th Infantry Regiment, 63rd Infantry Division on March 21, 1944. On May 5, 1944 he transferred to 4th Platoon Company K, 253rd Infantry Regiment, 63rd Infantry Division. He served with K/253 for the remainder of his time with the 63rd Infantry Division. PFC Eugene B. Reich went overseas with K/253 in November 1944. From November until April 8, 1945 he earned the Purple Heart Medal, the Bronze Star Medal and the Combat Infantry Badge.
On Sunday, April 8, 1945 K/253 crossed the Jagust River at Widdern, Germany, they fought their way through the Harthauser Wald (Harthauser Forest) to the area north of Lampoldshauen, Germany on April 9, 1945. The part of the Harthauser Wald  that K/253 was fighting in was defended by the 553 VGD Pioneer Reg Rosenheim.
Tuesday, April 10, 1945. PFC Eugene B. Reich "went out to the hen house and gathered eggs for my breakfast. Twelve FRESHLY FRIED EGGS were all I could eat. The kitchen always served scrambled eggs. Sometimes a rotten egg would sneak in, which added to the taste. That night and the following Tuesday and Wednesday and a few hours on Thursday we watched the Germans setting up an elaborate defense. We informed Battalion a couple times a day and each time they would have artillery fire on them. Soon as the firing stopped the Germans would continue. On Thursday morning, when we attacked the Germans were ready for us."
Thursday morning April 12, 1945 3rd Battalion 253rd Infantry Regiment was advancing southeast of the town of Lampoldhousen, Germany with  I/253 on the left K/253 in the middle and L/253 on the Right. K/253 was going down the middle for a frontal attack against the high hill near Lampoldhousen, Germany. K/253 was being led by 3 tanks from the 753rd Tank Battalion. As they approached the hill the Germans opened fire, and the 3 tanks turned and hid behind another hill. Over the last week while fighting with the 253rd Infantry Regiment, the 753rd Tank Battalion had suffered heavy casualties do to the panzerfaust, therefore it makes since that they took protection. The advance was slowed down by machine gun, rifle, and snipers fire. As they slowly moved forward PFC Eugene B. Reich could see, from his vantage point, many dead and wounded. One that stood out to him the most was an American Medic who had a bullet hole in the middle of the Red Cross on his helmet. A machine gun nest about 20 yards away had 4th Platoon, K/253 pinned down the company. Crouched close to PFC Reich was PFC Murray Moore, one of the Platoon leaders ( the Platoon leader was either LT Sloop or LT. LeJeune) and the Company Commander 1st Lt. William Kirchoff (who had recently taken command of the company after Capt. Lytton had been wounded at Mockmuhl) . Lt. Kirchoff ordered  the Platoon leaders (Lt. Sloop or LT. LeJeune) to take his men and go knock out the machine gun nest. The Platoon leaders (Lt. Sloop or LT. LeJeune) told his squad leaders to get his men together for the assault. The Lt. and Sgt. had just cleared the top of the bank, and both were wounded by mortar, and artillery fire.
The Sgt. made it back to the draw, the Lt. laid wounded about 20 feet away. At this point PFC Reich "became angry at Lt. Kirchoff. We needed a tank to help us get the machine gun nest. I went back to find the tank commander. I then climbed on his tank and pointed my 45 pistol between his eyes and offered him his one chance to survive the war. He moved his tank up and knocked out the machine gun." Then PFC Reich gave his light machine gun to Sergeant Delmar Lybarger. Sergeant Lybarger covered PFC Reich advance. Sergeant Lybarger was firing the light machine gun from the hip, and continued firing and loading the gun himself. PFC Reich made his way up the forward slope of a hill, "destroyed the first hostile gun with a grenade, killing two Germans and wounding one. He moved across open ground, to a second machine gun position and annihilated it in a similar manner, killing two more of the enemy." According to PFC Reich "Afterward I crawled up to the German machine gun nest, pulled the pin on my hand grenade, counted to three and dropped it into the nest. The next thing I remember was seeing human body parts falling back into the nest. I'm amazed that I could accomplish all this without getting a scratch." After taking out the German machine gun nests "he skillfully rescued and evacuated a wounded officer" (either LT Sloop or LT. LeJeune). PFC "Reich then carried sorely needed ammunition to his platoon across seventy-five yards of fire-swept terrain."
The next day Friday April 13, 1945. "What was left of the company climbed on three tanks to ride until we met some resistance. I was on the lead tank on the front. The next town was Lampoldhausen. (My purple Heart said I was wounded in Lampoldhausen)  On the way, one of the men told us that Roosevelt had died… When we approached Lampoldhausen we found the bridge into town was destroyed. We went down river, a 100 yards. and crossed the river into town. The river was only a foot deep where we crossed. The tank had to make a 90° turn to go up a street. Tanks don't turn on a dime. He went forward, turning as much· as possible. On the second pass he hit a building. The building fell on me. The next two months were spent in the hospital in Nancy, France." Shortly after he returned to K/253 he was transferred to the 36th Infantry Division on June 28, 1945.
He was discharge on February 26, 1946. He married Blanche Ross Scott on June 8, 1946, in Radford, Virginia. She gave birth to Eugene Bennett Reich JR on April 29, 1947 he died 3 days later on May 1, 1947. Gene and Blanche divorced in December 1960. He married Geraldine Brammer Phillips Reich in March 1961 in Hillsborough, Florida. Eugene had 2 sons Michael and Richard Phillips and one daughter Shari Renz. He died on November 2, 2005, in Apex, North Carolina, at the age of 79, and was buried there.
Sources
1- 63rd Division records
2- Blood and fire new letters from after the war
3- North Carolina, U.S., Deaths, 1906-1930 for Sallie Virginia Reich
4- 1930 United States Federal Census
5- 1940 United States Federal Census
6- the U.S., Department of Veterans Affairs BIRLS Death File, 1850-2010
7- U.S., World War II Draft Cards Young Men, 1940-1947
8- Virginia, U.S., Marriage Records, 1936-2014
9- Virginia, U.S., Death Records, 1912-2014
10- Florida, U.S., Divorce Index, 1927-2001
11- the Florida, U.S., Marriage Indexes, 1927-2001
12- The News and Observer Raleigh, North Carolina, 5 Nov 2005
13- The News and Observer Raleigh, North Carolina, 4 Nov 2005
14- 1943 Radford High School Radford, Virginia
15- U.S., Social Security Applications and Claims Index, 1936-2007
16- the U.S., Social Security Death Index, 1935-2014