Colonel Angelo Enrico Pilla O-1290123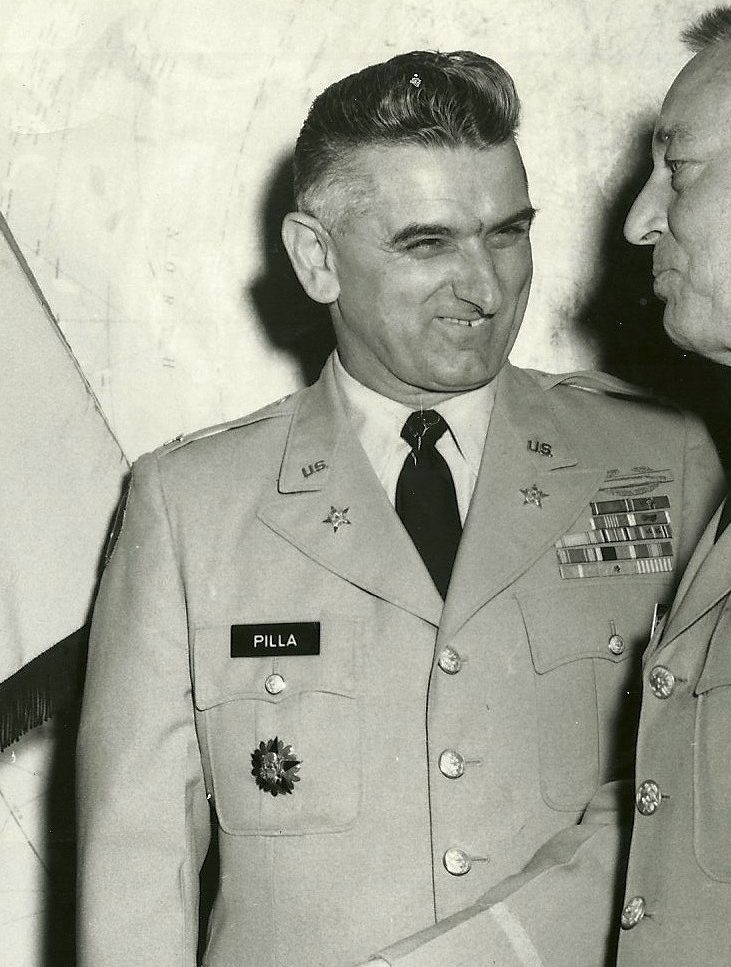 Colonel Angelo Enrico Pilla O1290123 DSC US Army. He was born on March 30, 1916, in Milford, Massachusetts, the son of Enrico and, Palmina Pilla. Angelo was the husband of Lillian Nettie Hoffmann Pilla. Angelo had 6 siblings Teresa Pilla, Nicholas Pilla, John Pilla, Mary Pilla, Athony Pilla, and Mario Pilla. Angelo entered the US Army on January 31, 1937, at the age of 20. On January 16, 1941 he was serving as a Sergeant in the Infantry, his enlisted service number was 20111966.
Angelo Pilla was commissioned an Infantry Officer upon graduation from Officer Candidate School March 13, 1942, class number 49. His first duty assignment was as acting Platoon Leader, Company E, 181st Infantry, 26th Infantry Division, he later served as a Company Executive Officer in the 389th Infantry 98th Infantry Division at Camp Breckenridge, Kentucky. His last station before entering the 63rd Division was at Fort Dix NJ. On January 9, 1944 he entered 2nd Battalion Headquarters Company, 253rd Infantry Regiment, 63rd Infantry Division as a Captain. On January 10, 1944 he entered Company E, 253rd Infantry Regiment, 63rd Infantry Division. He transferred back to 2nd Battalion Headquarters Company on April 17, 1944. At this time he served as the chief training officer.  Then on May 17, 1944 he transferred back Company E. Captain Angelo E. Pilla, served as the Commanding Officer of Company E, 253rd Infantry Regiment, 63rd Infantry Division. He trained with the 63rd Division at Camp Van Dorn. During most of his time in combat he also looked after F Company as well since they keep losing their officers, and went most of their time in Combat with out anyone of the rank of Captain.
On February 17, 1945 Pilla earned the a Bronze Star Medal for Valor in the vicinity of Neunkirch France. E Company was ordered to re-take a position being counter-attacked by the enemy with self-pro-palled guns and infantry, and which was thought to have been overrun. Upon receiving the order to advance Captain Pilla led his company in the face of heavy mortar and artillery fire until it occupied consolidated and held the position. He was wounded February 27, 1945, and stayed on the line for 24 hours after being wounded. He counted to lead E Company though out March including leading E Company through the Siegfried Line and taking Heidelberg Germany.
He earned the Distinguished Service Cross on April 4, 1945 for "turning apparent defeat into a brilliant victory." Pilla continued leading E Company until April 8, 1945, when a Gunshot wound to the neck forced him to be hospitalized. According to the account from Sgt. Clarence B. Garity, "The 88's drove the tanks back behind the hill almost at once and our battle-hardened, courageous Commanding Officer, Captain Angelo Pilla was seriously wounded while trying unsuccessfully to bring the tanks back into action."
He would later retire as a Colonel in the US Army, after serving in the Korean War, and Vietnam War. During this time he served as an executive Officer, 7th Infantry Regiment, Korea; G3 Sec; Eighth U.S. Army (Fwd), Korea; Battalion Commander, 1st Bn, 1st training Regiment, Fort Dix, New Jersey; Chief, Faculty Section, Special training Regiment, Fort Dix, New Jersey; USAREUR; Chief, Public and service, Admin Pentagon; Acting Chief Administrative Division, DPP&A, OACSI DA; Chief, Admin Office, OACSI DA; G2/G3 Adv, 2d ROK Army, Headquarters, Third U.S. Army, Fort McPherson, Georgia. He was awarded the Distinguished Service Cross, Bronze Stare Medal with V and Oak leaf cluster,  Army Commendation Medal, Purple Heart Medal with 2 Oak leaf cluster, American Defense Medal, The American Theater of operations Medal, European African Middle Eastern Theater of operations Medal with  two battle stars. the World War Two Victory Medal, Army of Occupation Medal,  Korean Service Medal, UN Korean Service Medal,  the Combat Infantry Badge, and the French Croix De Guerre. He died on October 23, 2001 in Donaldsonville Louisiana at the age of 85. He was buried at Arlington National Cemetery.

Around 1200 hours,  Company E, received another counterattack of five German tanks supported by about eighteen infantry men. E Company was able to keep the infantry out of its position, but the men were unable to keep the tanks out. The men attempted to use a bazooka against the tank, but the bazooka team was killed, and the bazooka was destroyed by a round from the tank. The tanks were close enough for the men of E Company to touch them. Because of this, E Company had to force the tanks out of their position to be able to call in artillery. The men started firing rifle-grenades at the tanks, and the tanks moved far enough away so they could call in Artillery fire to force the tanks to withdraw. Captain Angelo E. Pilla, used everything imaginable to make his men stand their ground; he personally fired a rifle grenade at the tanks. Once he was able to use artillery in the fight, he decided to advance. "He personally led a counterattack and succeeded in gaining several hundred yards, turning apparent defeat into a brilliant victory." (11) The company then set up defenses in its newly won position. Company E lost 9 men during the on and off fighting for 12 hours on April 4 1945.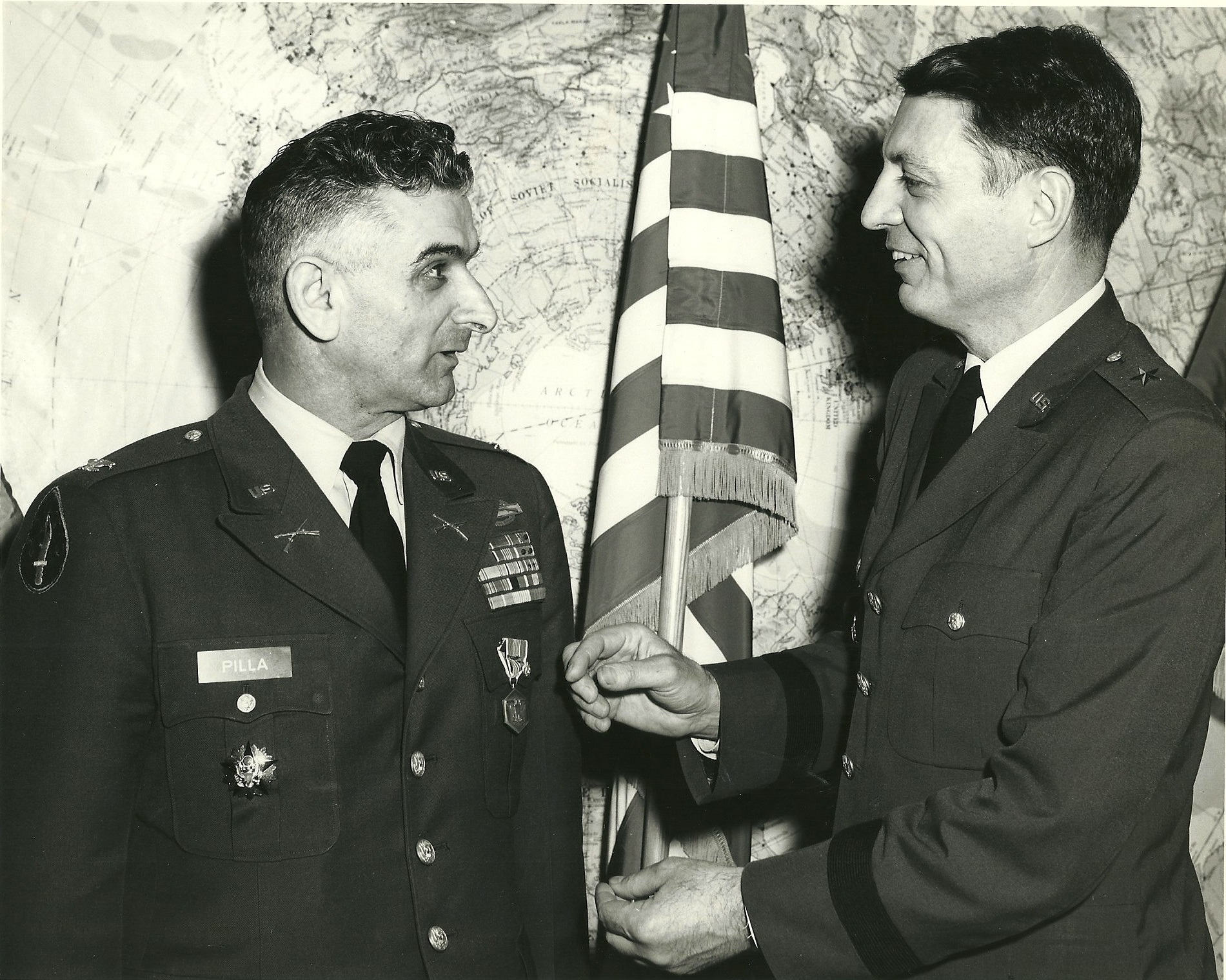 Colonel Angelo Enrico Pilla                                                                                    Brig Gen Guther
1- The Battle of Buchhof and Stein am Kocher
2- Information and photographs from his family – Pam Chaplin
3- https://aad.archives.gov/aad/record-detail.jsp?dt=893&mtch=5&cat=all&tf=F&q=Angelo+Pilla&bc=sd&rpp=10&pg=1&rid=1842900&rlst=1842900,2747413,4064178,6689630,511081
4 – the U.S. Veterans' Gravesites, ca.1775-2006
5- 63rd Infantry Division Records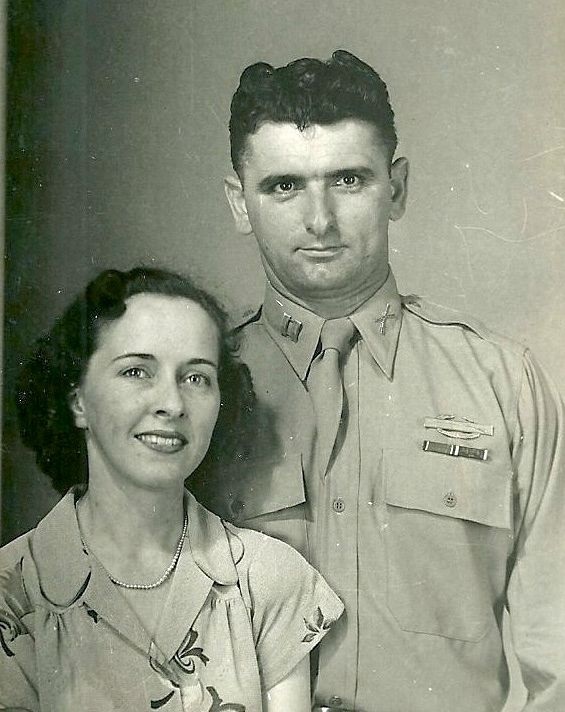 Lillian Hoffman Pilla and Angelo Enrico Pilla

GO128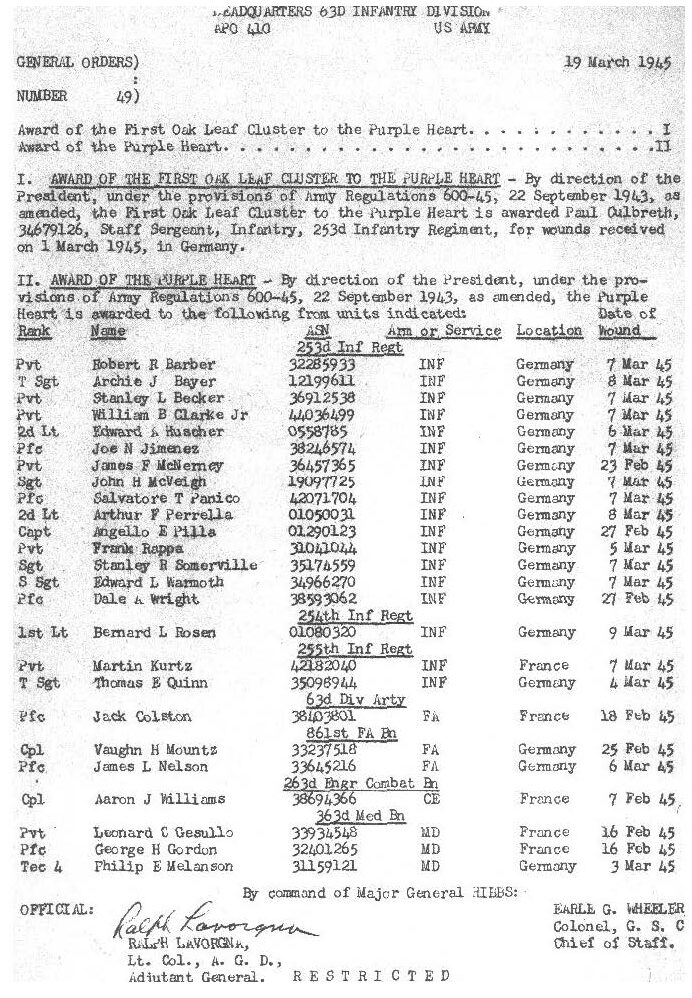 GO 49