Lieutenant Donald Ray Woods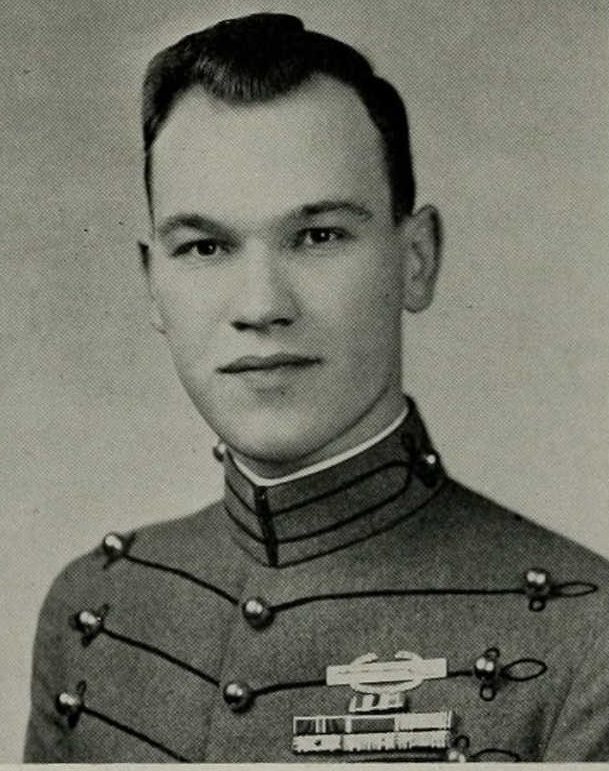 Lieutenant Donald Ray Woods (38538361 enlisted service number) US Army. He was born on January 20, 1925, in Houston Texas. He is the son of Nomer D Woods and Emma M Rey Woods of 3517, 23rd Street Oklahoma City, Oklahoma. He graduated from Classen High School in 1942. He attended 3 semesters at Texas A&M a term at Purdue and Cornell. He entered the US Army on June 20, 1943 at the age of 18. At the time of his enlistment he was 6 feet tall weighed 170 pounds had brown hair and brown eyes. He served as a Private all the way up to a Sergeant  in 4th Platoon, Company F, 253rd Infantry Regiment, 63rd Infantry Division. His best friend in the Army was Staff Sergeant  Fred McLafferty.
On February 26, 1945 a Major came up with a medic.  The Major said "We've got this problem. This guy in your company got shot in the attack and when we had to pull back he's out there and the medics have gone out to treat him and get him and the Germans have decided to shoot medics today. We've already lost one medic." And, this guy who was with him said, he had a hole in his shirt, "So, as soon as it gets dark we've got to sneak out there, with a stretcher, and bring him back." "I need two volunteers." At this point Don Woods jumps up and says, "Sir, we will volunteer." ( volunteering McLafferty to go with him). So, they went out and got the wounded man from F Company, and the Germans knew that someone was going to come for the wounded man so they were targeting any noise. When Woods and McLafferty were on the way back with the wounded man they made some noise which resulted in a lot of artillery being thrown on them, Woods received a piece of shrapnel in his arm. 
The Major was very pleased and put the men in for a Silver Stars Medal. Woods received the Silver Stars Medal and McLafferty received a Bronze Star Medal. Although Woods wound did not look too bad, it damaged his tendons causing trouble with his arm for the remainder of his life.
Before going overseas Woods had applied for West Point and while he was in the front lines his appointment came through. He didn't tell anybody. A couple of weeks later a 2nd letter came saying, "Didn't you get the letter?"  McLafferty saw him opening it and saw the return address was a very official letter and, of course, McLafferty insisted on reading it. McLafferty said, "What are you still doing here?" Woods Said "Well, I can't leave my buddies." McLafferty, spoke up loudly so everybody within hearing could hear what the story was and McLafferty said, "How many of you guys would stay here if you got one of these?" Everyone said, "Hell no! We'd be out of here." So, they "shoved him out of there." He left F Company on March 14, 1945.
When Woods got to West Point in the summer of 1945, he was treat like a pledge. After about two weeks the General called a parade for the whole outfit and then he announced, "The parade is to award medals." Woods was awarded  his Silver Star Medal and Purple Heart Medal in front of all the men. He never got harassed again. At West Point he did Swimming, Art Club, Chapel Choir, Hundredth Night Show, Glee Club, Hop Committee, and President of the French Club.  He was awarded the Combat Infantry Badge, the Silver Star Medal, the Purple Heart Medal (PHM), the Bronze Star Medals BSM, The American Theater of operations, the European Theater of Operations Medal ETO with 1 battle star, the Good Conduct Medal, and the World War Two Victory Medal. He died on May 20, 1991 at the age of 66.
| | |
| --- | --- |
| 1949 | 1942 |

1- 63rd Infantry Division Records
2- West Point United States Military Academy 1949 Yearbook
3- Oklahoma Oklahoma City Classen High School 1942
4- https://aad.archives.gov/aad/record-detail.jsp?dt=893&mtch=7&cat=all&tf=F&q=Donald+R.+Woods&bc=sd&rpp=10&pg=1&rid=7398450&rlst=1345222,5567310,6394751,6415567,7398450,8188269,1312092
5- WWII Draft Cards Young Men, 1940-1947
6- U.S., Social Security Applications and Claims Index, 1936-2007
7- 1930 United States Federal Census
8- 1940 United States Federal Census
9- Phone calls and emails with Fred McLafferty
10- https://digital.sciencehistory.org/downloads/g445cf32q?disposition=inline