Private First Class Albert Joseph Kilikewich 31460335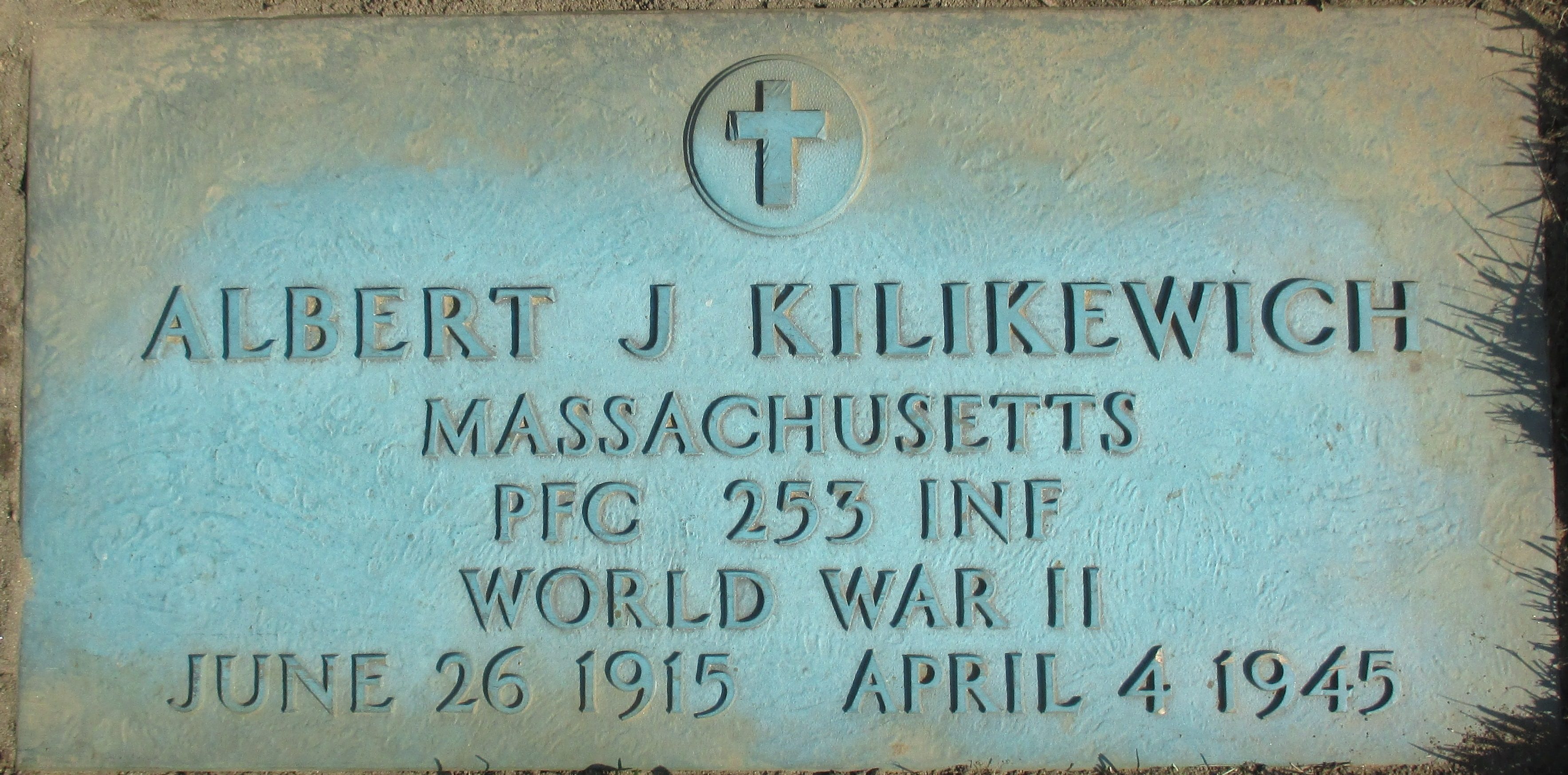 Private First Class Albert Joseph Kilikewich 31460335 US Army KIA. He was born on June 26, 1915, in Northampton, Massachusetts,the son of William Killikewich, and Barbara Killikewich. He was the husband of Gladys C Bourget Kilikewich. He entered the US Army on March 31, 1944, at the age of 28.  He served in First Platoon, Company F, 253rd Infantry Regiment, 63rd Infantry Division.
On April 4, 1945, after First Platoon had crossed the Jagst River, in to the town of Untergriesheim, they were clearing out the houses to guarantee that the town was safe for them to stay in since they were the reserve company. PFC Robert M. Bane and PFC Albert J. Kilikewich were in the backyard of one of the houses in the town of Untergriesheim. The two men were relaxing after completing their second river crossing in the past three days. The men were laying about 15 feet away from each other, talking and opening can rations. Robert Bane was extremely excited about the can of cheese and bacon that he had been saving to eat for about a month. At this point, an artillery piece exploded and sent large pieces of shrapnel at the men, and the explosion sent the can of cheese and bacon flying from Bane's hand. PFC Bane was shouting and screaming every curse word he knew, and he thought it was odd that Kilikewich was not saying anything. Bane looked over, and Kilikewich had been killed by the shrapnel. Bane then started to check himself for shrapnel, and noticed that he was saved by his rifle stock of his Thompson submachine gun that received a large piece of shrapnel in it. After clearing the town, F Company remained in the cellars of the town all day on 4 April to prevent any more deaths from the artillery. The town of Untergriesheim had artillery dropping on it until around 0800 on 6 April. He died at the age of 29.
1- The Battle of Buchhof and Stein am Kocher
2- the 1920 United States Federal Census