Sergeant Major John D. Harris 34948285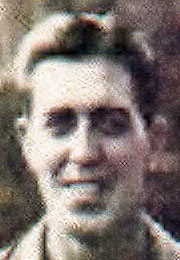 Sergeant Major John Douglas Harris 34948285 US Army. He was born on Feb 29, 1920, the son of Arthur Harris and Annie Harris. He was also the husband of Charlotte Harris. He lived at 1271 1/2 Broad Street Augusta Georgia. He was employed at McNeir Storage Station as a Filling station operator at the time of his enlistment he was 6 foot 2 inches tall weighed 180 pounds had brown hair and Brown eyes. In World War Two he served in Combat with Third Platoons, Company F, 253rd Infantry Regiment, 63rd Infantry Division. He also served in E Company,  253rd Infantry Regiment, 63rd Infantry Division.
On April 6, 1945, Shortly after this, First Platoon F Company moved back and Third Platoon led the attack to the town of Buchhof German. PFC Herman Fabiani was first scout for the Third Platoon, he was now leading the company. PFC John D. Harris, who was second scout, followed immediately behind Fabiani.  During the one and three-fourths mile advance, the company had to clean out several machine gun and sniper positions while receiving artillery fire. This caused the advance to Buchhof to take about three and a half hours. Herman Fabiani was the first person to reach the outskirts of the town of Buchhof from the east shortly before 1100 hours. Fabiani saw a glimmer coming from a sand stone church with a steeple on top of the hill in the town of Buchhof, and he fired his rifle at it. Then "all hell broke loose."  Meanwhile, PFC John Harris who was closest to Fabiani, discovered that the enemy was waiting to ambush his platoon. When Fabiani fired at the church, the enemy immediately opened fire on Third Platoon. The enemy used a tremendous amount of artillery fire that began falling down on the company, along with mortar, rocket, large amounts of small arms, and machine gun fire. PFC Harris warned Third Platoon, "giving them time to get into a position as the enemy fire became more intense and was taking heavy, [amounts] of casualties… the platoon was forced to withdraw. [PFC] Harris remained in [his] position, continuously firing to cover the withdrawal." Third Platoon then went to "a more advantageous position"  to push the attack on Buchhof.
By the end of World War Two he was a staff Sergeant. After the war he reenlisted on April 17, 1946. He served in the Korean War and the Vietnam War. He retired from the US Army as a Sergeant Major. He died on September 28, 1999 at the age of 79

1- The Battle of Buchhof and Stein am Kocher
2- https://aad.archives.gov/aad/record-detail.jsp?dt=893&mtch=1&cat=all&tf=F&q=34948285&bc=sd&rpp=10&pg=1&rid=5319088
3- U.S. WWII Draft Cards Young Men, 1940-1947
4- U.S., Social Security Applications and Claims Index, 1936-2007
5- U.S., Department of Veterans Affairs BIRLS Death File, 1850-
6- 1930 United States Federal Census
7- 1940 United States Federal Census