Private First Class Joe Aguzzi 44045128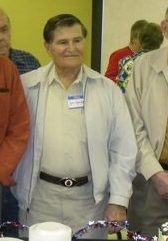 Private First Class Joe Aguzzi 44045128 was born in 1926, the son of Ned J Aguzzi and Virginia Aguzzi. He served in 1st Platoon, Company F, 253rd Infantry Regiment, 63rd Infantry Division.
On April 6, 1945, First Platoon was leading the advance through the open ground towards the town of Buchhof. PFC Joe Aguzzi was the first scout, and being first scout gave him the responsibility of leading the company through the open ground. At this time, a sniper shot Aguzzi in the left leg, and the bullet hit his femur and the femoral artery. He fell to the ground in excruciating pain as his M1 rifle went flying out of his hand and his helmet went flying off his head. The men of F Company walked past him and left him for the medic. Upon approaching him, the medic gave him a sulfur pill, morphine, and a tourniquet for his wound. The medic continued on with the advance to help the other wounded. During this time, one of the men walking past him was one of Aguzzi's two best friends: Harold D. Bonner, who was a BAR man.  Bonner had been shot in the stomach by a sniper – most likely the same sniper that shot Aguzzi. Bonner died quickly after being shot before the medic was able to get to him. Joe Aguzzi slowly bled out until dusk. When he opened his eyes, he saw a couple of men in the distance. He was extremely weak, and he raised his hand; they rushed over to him. They put Aguzzi on a litter and then placed him on the hood of the Jeep. They took him to the 112th Evacuation Hospital. Before being discharged Joe Aguzzi would spend the next seven months in hospitals recovering from his wounds.
1- The Battle of Buchhof and Stein am Kocher
2- the 1940 United States Federal Census
3- Fox Company Reunion Mississippi