63rd Infantry Division — "Blood and fire"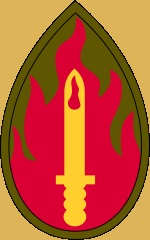 Back to all Infantry Divisions
The 63rd Infantry Division served for 119 days in Combat in the European African Middle Eastern Theater; during this time they served in the campaigns of RHINELAND, ARDENNES-ALSACE, and CENTRAL EUROPE. The Division was made up of these units.
Medals of Honor
Distinguished Service Cross
PFC Walter J. Dilbeck, Jr. 35841476 
PFC Eugene B. Reich 33662432 
Lt. Colonel Robert E. Tucker O19938 
It is extremely vital to remember that without the hard work and research from these 4 men that much of the history for the 63rd Infantry Division would not be known today.
Colonel Fred Clinton D/254th, B/363d, Ranger Platoon
S/Sgt. Magnus L Froberg C/253rd;
PFC William "Bill" J. Scott E/254th;
and the 63rd Infantry Division Association.